How to prepare your Pet for ground transportation.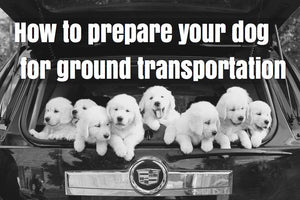 This guide will be a rundown of everything you will need to prepare for your pets upcoming trek. It should only take a few minutes to gather everything up for your trip. 
Food
We ask that you provide food, most dogs & cats are very susceptible to car sickness especially when they change foods, The ride will be more comfortable for your pet with a calm stomach. Please include any special feeding instructions that your pet has. We ask that you send the food in a plastic zip lock bag or other resealable food storage container. We ask that you please write you and your pets name on the container. You can put the bag of food inside of your personal item sized carry on. 
Vaccinations
We also require your dog to be updated on all vaccines to prevent the spread of any diseases to any future passengers. For Dogs: Vaccines for canine parvovirus, distemper, canine hepatitis and rabies are considered core vaccines. If your dog has been diagnosed with any of these in the past 3 months they will not be able to travel.
Paperwork
As a reminder if the receiving party needs any paperwork such as registration or health related paperwork we ask you put it in a folder with you & your pet's name on the front. Please put it inside your luggage. Please ensure the driver is aware of all the paperwork you have at the time of pick up. 
Loading & Unloading
We will need to be able to enter your home or another secured location whenever loading or unloading a cat or pig. Safety and the risk of losing a pet during the transfer is extremely risky. We take all precautions to ensure a smooth transport. 
While loading and unloading dogs we will supply the leash we will use to ensure quality of equipment.
Luggage
 Luggage Policy:
We allow one small personal item. We are limited on cargo space.  Bag must be resealable. Your personal item like a backpack or small handbag must fit in our luggage area. Dimensions should not exceed 18 x 14 x 8 inches (45 x 35 x 20 cm). We need all of your pets items inside an enclosed bag at pick up to ensure items will not be lost in transit. 
Things we provide 
We will provide the kennel, leash, water & food bowls. We will provide the kennels to be used during transit. 
We also provide a temperate controlled climate. They will be out of the elements the entire time with plenty of space for a safe and comfortable drive. We also provide location updates as requested. 
Having all these items ready when the driver arrives for pick up will make the process go smooth. If you have any questions you can reach us by phone or email any time of the day. 
(801) 877-3145 or email aretetransport@gmail.com
---
2 Responses
Leave a comment
Comments will be approved before showing up.