7 Reasons Pitbulls make great Family dogs!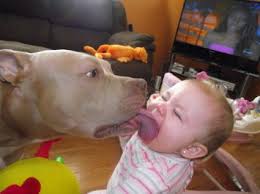 7 Reasons Pitbulls make great Family dogs!
You've  made the first important step into getting a pitbull by doing research and making sure you are suitable for this loving breed. The pitbull has many loving features that make them excellent family pets, whether you're adopting or looking into buying one from a reputable breeder it will be one of the best decision of your life!
Pitbulls are generally healthy
Pitbulls are a typically a healthy breed, for a most part they don't have any major health concerns, saving you and your family tons of money is medical bills. They also have a long lifespan, meaning you can get that extra couple of loving years out of your pittie.
 Pitbulls are athletic, and love to exercise.
Your pitbull will help you stay active, they love to exercise, whether you are just taking a stroll through the park or doing a triathlon pitbulls love all types of exercise and excel in many dog related sports.
They Love to cuddle, total lap dogs 
Pitbulls are the most athletic, yet one of the laziest dog breeds. They love to always be in your lap and can make anyone feel loved. The only problem you will have with a pittie is making them get out of bed!
Pitbulls love children!
Pitbulls are commonly referred to as the "nanny breed" They have outstanding motherly instincts. They thrive in a family setting and do great with all ages.
They don't require much grooming!
Pitbulls are extremely clean, and only need to bathe when they get into trouble. They have a short coat, that hardly sheds.
No pit is the same!
Pitbulls love to please, and they all have unique personalities. Through every pitbull I've ever had, never had two the same. The are each unique in their personality and are each loving in their own way.
     1. Pitbulls love you.
Every pitbull has one characteristic the same, they all are devoted to their owner and everyone in the family. They are there through everything and help you overcome the worst circumstances. My pitbull is my best friend, she's always by my side.
I hope reading this article you've opened your heart up to this wonderful breed. Pitbulls are an amazing breed with tons of great qualities. Don't let the media that only shows the bad images of pitbulls influence your decision. It's all in how you raise them, their personalities reflect the owner's personality.. Research where your next puppy is coming from to ensure your next pitbull experience is a good one!
---
Leave a comment
Comments will be approved before showing up.